Another GREAT Add-On for Personalization and Style!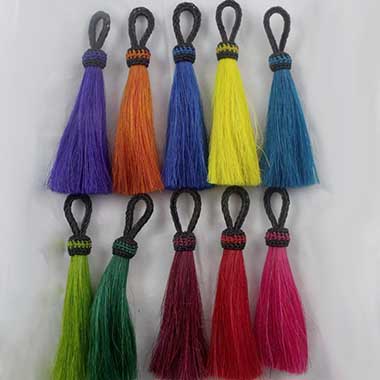 Click On Graphic To Enlarge or Reduce
Back


These handmade Mexican Hot Color Tassels are made of REAL dyed horse hair. They come in Dark Green, Dark Turquoise, Hot Pink, Lime Green, Orange, Purple, Red, Wine and Yellow and are TRULY UNIQUE! How about a Yellow one for Bringing our Troops home, a Green one for St. Patricks Day or a Hot Pink for Breast Cancer Awareness, just to name a few. The overall length is 4-3/8 inches with a brush length of 3-1/8 inches. The woven band is 5/8 inch in diameter.

Price starts at $11.25 per Tassel Kit... and includes FREE USA Packaging & Priority Mail Shipping if shipped with a Stik or Staf Order.


CHOOSE YOUR PREFERRED TASSEL COLOR:
CHOOSE YOUR HARDWARE COLOR:
CHOOSE THE CORRECT ORDER OPTION:
WITH Stik Order NOT INSTALLED (Free USA Packaging/Shipping)
WITH Stik Order INSTALLED +$5.00 (Free USA Packaging/Shipping)
WITHOUT Stik Order +$3.99 (Shipped First Class)
Tassel Kit Price (ea):
If ordering more than 1 of the Same Item on this page WITHOUT a Stik or Staf
we will refund you any overage on the shipping once the total weight is known.