Another GREAT Add-On for Personalization and Style!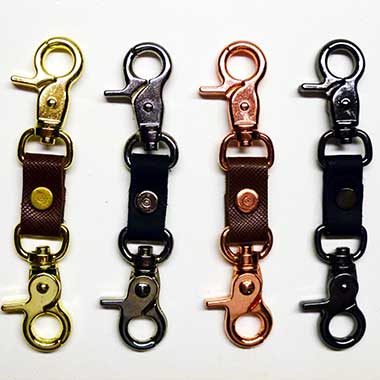 Click On Any Graphic To Enlarge or Reduce
Back


These Belt Loop Stik Holders are custom made to your choices. They are used to clip onto a Mounting Loop (required and purchased separately) on one end and on your attire (usually a belt loop) on the other end. You pick the Overall Length, the Leather Type and Color and finally the Metal of the HD Clasps. The have an overall length of 4 (most popular) to 5 inches.

Price starts at $7.00 per Loop Holder... and includes FREE USA Packaging & Priority Mail Shipping if shipped with a Stik Order.

CHOOSE YOUR OVERALL LENGTH
CHOOSE YOUR PREFERRED LEATHER
| | | | |
| --- | --- | --- | --- |
| Black Oiled | Brown Italian | Burgundy Latigo | Dark Brown Oiled |
| Natural Cowhide | Red Mexican Crunch | Tan Italian | Tan Llama |
| Tan Mexican Crunch | Tan Oiled | Tan Gator | Tan Saffiano |
| Tan Western | Briar Brown Gator | Briar Brown Saffiano | Briar Brown Western |
| Burgundy Gator | Burgundy Saffiano | Burgundy Western | Builder's Choice |
CHOOSE YOUR PREFERRED CLASP COLOR
CHOOSE YOUR CORRECT ORDER OPTION:
WITH Stik Order (Free USA Packaging/Shipping)
WITHOUT Stik Order +$3.99 (Shipped First Class)
Belt Loop Holder Price (ea):
If ordering WITHOUT a Stik or Staf AND... more than 1 is desired,
EMAIL US FIRST as we can save you money on shipping.