---
TESTIMONIAL MENU
---
---
---
OUR BROCHURE
---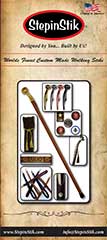 Photo Gallery Lookup
---
Over time we have taken photos of some of our stiks we have built. Below you can select what particular photos you'd like to view out of the 107 we currently have available. Take some time and browse around...
---
Create Your Selection to View
---
You can choose one or any combination of selections above to view.
If you want to view all photos, make no selections and click SUBMIT.

---
PARTS & INFO
---
---

---

---

---