---
TESTIMONIAL MENU
---
---
---
OUR BROCHURE
---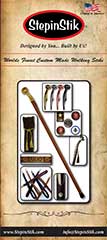 Customer Testimonials - Books
---
Some of our customers have written books that show our products on the cover or are a part of the story. Please take a moment and checkem' out. We appreciate ALL the gifted energies and hard work it has taken to produce these books, so... MANY THANKS!

Additionally some of our customers and resellers send in Photos, Videos and Articles involving our Stiks and other Products. Please take some time and enjoy those as well!


---

Click On Graphic To Enlarge or Reduce
One of our customers, pen name Reb MacRath, has written 12+ suspense and mystery books. Having been so pleased with the stik we built him he has highlighted it on both the cover and as an integral part of the story in his latest mystery.

You can find this mystery within the long list of Reb's highly rated books available on Amazon.
---

---
PARTS & INFO
---
---

---

---

---