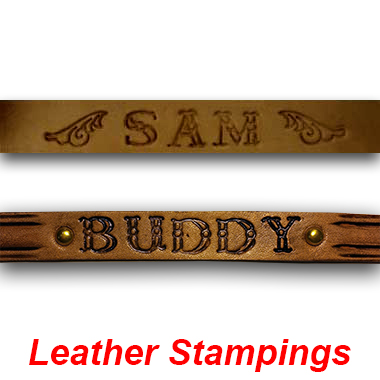 Click On Graphic To Enlarge or Reduce

Another GREAT Add-On for Personalization!
If you're purchasing a 1/2 inch non-embossed leather strap then make it YOURS... Personalize It! Most popular is to stamp your initials or first name but whatever you like. Price starts at $9.00

This Accessory DOES NOT include the strap.
You MUST order a leather strap for the Stamping.
We highly recommend Natural Cowhide as that stamps best!
Questions?
NOTES:
Pricing is calculated as follows: $7 for setup, then $2 per character stamped.
Leather is 1/2 inch high and Characters are 3/8 inch high and all caps.
Letters ONLY, no numbers.
A maximum 10 characters is allowed.